Posted: June 20, 2011 |
Author:
DJ MONSTER JAM
|
Filed under:
BRUNCH
,
WILLIAMSBURG
|
Leave a comment »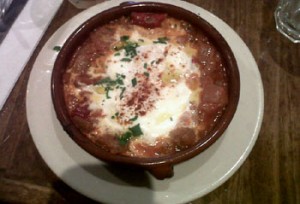 This place has some kind of $5 martini happy hour at night, so I assume if you're FUCKING RIPPIN AND ZIPPIN' on some crushed up Ritalin that you found under some FUCKING PASSED OUT HIPSTER IN AMERICAN APPAREL STRIPED JODPHURS that is in turn FUCKING PASSED OUT ON ANOTHER HIPSTER'S TARD CAT NAMED JOY DIVISION, then you're probably in for A SICK EVENING.  I had the brunch here, which was some FUCKING MIDDLE-OF-THE ROAD, IT'LL DO BUT I'VE HAD BETTER HAND JOBS IN THE BACK OF A FORD TAURUS quality.  If you want to take your mildly funny acquaintance who mostly wears jeans and tees and thinks the FUCKING YAWN SNORE HOLD STEADY are the second coming out of JESUS H. BRUNCH, go to Fanny. They'll probably love it with their MEDIOCORE ASS.
I will admit the Poached Egg and Tarragon Shrimps was a solid MONSTER JAM.  THEY GET STINGY ON THAT A$$ with only three shrimp, but they're CRISPY N' SPICY LIL MOTHERFUCKERS covered in DECE dollops of GUSSIED UP YOGURT and they don't look like some OL' LONG JOHN SILVER MIDWESTERN BULLSHIT POPCORN SHRIMP EITHER.  The baked eggs with ratatouille is nothing to write home about, but it was HOT N' SERVICEABLE LIKE YOUR MAMA'S ASS!!!! (AW NO SHE DINNIT!! BOOM!!).  If you're going for the brunch special, get the mimosa cus the BLOODY MARY'S SOME BLOODY FUCKIN BULLSHIT, but I'm not gonna crap it cus it ain't worth my time, neither is the Hold Steady, or for my money, this brunch again.  I'll see you FUCKTARDS UNDER THE BAR when I've had my money's worth of those happy hour martinis.  PEAYCE!
Baked Eggs Over Ratatouille – Jam
Poached Egg and Tarragon Shrimps – MONSTER JAM
Steak and Egg – Jam
Spanish Tortilla – Jam (think Phil Collin's Tonight Tonight, not great but not terrible)
Mimosa – Jam
Home Fries – Jam
Burger – MONSTER JAM
Jam To Crap Score: 9/14 – *64.3%*
*CERTIFIED CRAP FREE*
425 Graham Ave
Brooklyn, NY 11211
(718) 389-2060
Review by: D. SCOTT SPINNEY
---