Posted: June 20, 2011 |
Author:
DJ MONSTER JAM
|
Filed under:
BRUNCH
,
WILLIAMSBURG
|
Leave a comment »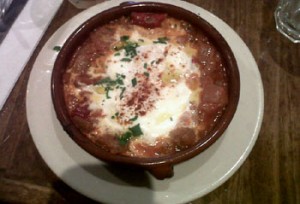 This place has some kind of $5 martini happy hour at night, so I assume if you're FUCKING RIPPIN AND ZIPPIN' on some crushed up Ritalin that you found under some FUCKING PASSED OUT HIPSTER IN AMERICAN APPAREL STRIPED JODPHURS that is in turn FUCKING PASSED OUT ON ANOTHER HIPSTER'S TARD CAT NAMED JOY DIVISION, then you're probably in for A SICK EVENING.  I had the brunch here, which was some FUCKING MIDDLE-OF-THE ROAD, IT'LL DO BUT I'VE HAD BETTER HAND JOBS IN THE BACK OF A FORD TAURUS quality.  If you want to take your mildly funny acquaintance who mostly wears jeans and tees and thinks the FUCKING YAWN SNORE HOLD STEADY are the second coming out of JESUS H. BRUNCH, go to Fanny. They'll probably love it with their MEDIOCORE ASS.
I will admit the Poached Egg and Tarragon Shrimps was a solid MONSTER JAM.  THEY GET STINGY ON THAT A$$ with only three shrimp, but they're CRISPY N' SPICY LIL MOTHERFUCKERS covered in DECE dollops of GUSSIED UP YOGURT and they don't look like some OL' LONG JOHN SILVER MIDWESTERN BULLSHIT POPCORN SHRIMP EITHER.  The baked eggs with ratatouille is nothing to write home about, but it was HOT N' SERVICEABLE LIKE YOUR MAMA'S ASS!!!! (AW NO SHE DINNIT!! BOOM!!).  If you're going for the brunch special, get the mimosa cus the BLOODY MARY'S SOME BLOODY FUCKIN BULLSHIT, but I'm not gonna crap it cus it ain't worth my time, neither is the Hold Steady, or for my money, this brunch again.  I'll see you FUCKTARDS UNDER THE BAR when I've had my money's worth of those happy hour martinis.  PEAYCE!
Baked Eggs Over Ratatouille – Jam
Poached Egg and Tarragon Shrimps – MONSTER JAM
Steak and Egg – Jam
Spanish Tortilla – Jam (think Phil Collin's Tonight Tonight, not great but not terrible)
Mimosa – Jam
Home Fries – Jam
Burger – MONSTER JAM
Jam To Crap Score: 9/14 – *64.3%*
*CERTIFIED CRAP FREE*
425 Graham Ave
Brooklyn, NY 11211
(718) 389-2060
Review by: D. SCOTT SPINNEY
---
Posted: June 17, 2011 |
Author:
DJ MONSTER JAM
|
Filed under:
BRUNCH
,
WILLIAMSBURG
|
Leave a comment »
These are the keywords that I'm gonna kick this shit off with: SOLID, GO-TO, DECENT, NOT HALF BAD.  This place has a SUPER DECE bar atmosphere and wait staff that look at you like you're a FUCKING MORON when you order, cus let's face it, you probably are.  BUT, how do I put this delicately…THIS PLACE HAS SOME SERIOUS FUCKING CRAP TOO! It's like a pretty, smart girl with some SERIOUS MUFFIN TOP.  BUT STOP FUCKING COMPLAINING!! YOUR ASS ISN'T COOL ENOUGH TO GET ANYONE AWESOME ANY GODDAMN WAY!!
The Huevos Rancheros is a MOS DEF MONSTER JAM and you can actually differentiate what you're putting in your mouth INSTEAD OF SOME HOT SLOP MASH OF EGG SALSA.  The bloody mary is another SOLID JAM OF SPICEY BOOZE to light a fire under your lazy ass.  The BLT isn't quite a monster, but it gets BIG ASS PROPS for actual hand carved turkey and not BULLSHITTING ME WITH SOME BODEGA DELI SLICES YOU EAT WHILE YOU'RE HUNGOVER IN YOUR UNDERWEAR WATCHING THE DISCOVERY CHANNEL.  BUT, unless you're some SICK FECAL FREAK that actually likes the taste of SHIT in your mouth then stay the fuck away from the breakfast burrito.  It's a certified WET JUICY CRAPHOLE.  The turkey wrap looked like a PIECE OF SHIT as well.  If you steer clear of any of the BULLSHIT wraps, you'll PROBABLY be in the serious clear for a relatively dope experience.
Huevos Rancheros: MONSTER JAM
BLT: Jam
Breakfast Burrito: Crap!
Bloody Mary: Jam
Eggs Benedict: Jam
Home Fries: Jam
Jam To Crap Score: 6/12 – *50.0%*
769 Metropolitan Ave
Brooklyn, NY 11226
(718) 388-6870
Review by: D. SCOTT SPINNEY
---
Posted: June 17, 2011 |
Author:
DJ MONSTER JAM
|
Filed under:
BRUNCH
,
EAST VILLAGE
,
FANCY ORGANIC SHIT
,
THE MONSTER JAM REPORT
|
Leave a comment »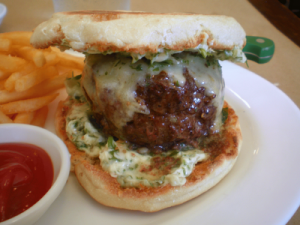 I usually don't give A RAT'S SQUIRRLEY FUCKING ASS about some DUMBASS brunch! And, why, why you ask?  WELL SHUT THE FUCK UP FOR A SECOND AND I'LL TELL YOU —- DAMN!  (8=====D~~~~)!!!!  It's RED AND MOTHERFUCKING YELLOW on repeat!!  Cus those are the only COLORS on a brunch plate!!  It's some FUCKING BORING over priced eggs drenched in red sauce (WHO GIVES A SHIIIIIT????) *PUKE* BLEHHHHHHH!!!!! But, guess what?! There's a brunch out there that proved MY SAD STUPID LITTLE ASS WRONG and it's the MAD DECE brunch at Prune.
Seriously,  I would suck some REBUPLICAN DONKEY DICK for this brunch it rules THAT FUCKING HARD.  First of all, don't even get me started on the Bloody Mary's. Usually, I can take or leave these BORING ASS SHITS, but JESUS ON A FUCKING POGO STICK they're FUCKIN WAILIN ON DAT AZZZZ!!!!! The Matchbox is my fave, with a SICK ARRANGEMENT of pickled vegetables that makes me feel like 007 ON A COKE BINGE, and it comes with a shot of BOB MARLEY'S GLASS BONG OF CHOICE RED STRIPE.  If that wasn't enough, the food is OFF THE MOTHERFUCKING CHARTS. The Spaghetti A La Carbonara rips a hole in Bitali's ass, with just the right amount of cream sauce and bacon.  The Eggs "En Cocotte", or as I like to call it THE BEST FRIGGIN' 'WHO CAME UP WITH THIS FUCKING MEAL?' OF ALL TIME should be put in a baby's bottle 'cus I WILL SLURP THAT SHIT UP (Daaaaaaamn!).  If you're feeling like you want the meal equal to NUT HUGGER JEANS, HOUSE MUSIC, AND STUPID QUESTIONS get the Youth Hostel Breakfast-it doesn't suck. Another jam is the stewed chikpeas, it gives some sweaty Moroccan eggs a run for its money. Word on the street is, a certain Brooklyn based actress BLEW UP THE DAMN BATHROOM THIS PLACE IS SO SICK. Not naming names, but it rhymes with SAGGY STICK 'N BALLZ.
Spaghetti A La Carbonara – MONSTER JAM
Youth Hostel Breakfast – Jam
Egg "En Cocotte" – MONSTER JAM
Spicy Stewed Chickpeas – Jam
Fresh Ricotta – Jam
Box Car Blood Mary – MONSTER JAM
Jam To Crap Score: 9/12 – *75.0%*
*CERTIFIED CRAP FREE*
54 E 1st St
New York, NY 10003
(212) 677-6221
Review by: D. SCOTT SPINNEY
---