NORTHERN SPY FOOD CO.
Posted:
May 24, 2011 |
Author:
DJ MONSTER JAM
|
Filed under:
EAST VILLAGE
,
FANCY ORGANIC SHIT
,
THE MONSTER JAM REPORT
|
Leave a comment »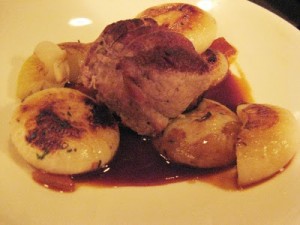 BIG FUCKIN DEAL, I like some farm-to-table organic goodness in my face, SO FUCKING SUE ME WHY DON'T YA?!  NORTHERN SPY sounds like it might be some whack ass Russian themed tapas bar where they serve drinks called the Kremlin Cream Float, but it's TOTALLY NOT!! It's a MAD DECE spot in the east village where you feel like you're eating at Mama's table if Mama was a NPR correspondent and a TREE HUMPING DENDROPHILIAC (for all you educated shitheads out there).
The Kale Salad is a STEALTH BOMB OF A MOTHERFUCKER with a SICK ASS cheese-to-green ratio to make you not feel like a JACKASS for loving the fuck out of a salad.  Don't even get me started on their Risotto (SHIIIIIIIIIT!!)  It's the organic pasta equal to a R. Kelly CRUNCH MUNCH REMIX FREAKKY FREAK UNDERAGE SEX JAM.  I'm not so sure what's so local about the squid & mussel ragout, except when I'm LAPPING THAT SHIT IN MY MOUTH like a dog on a hot day (DAMN – BET YOU DIDN'T SEE THAT ONE COMIN!!) They take fancy meat n' taters to the next level too, so you know the Roasted Chicken and Pork dish WILL RULE YOUR FACE WITH AN IRON SKILLET!  I haven't had a SHITTER here yet.
Kale Salad – MONSTER JAM
Freekeh Risotto – MONSTER JAM
Squid & Mussel Ragout – Jam
Hudson Valley Pork – MONSTER JAM
Roasted Chicken For Two – MONSTER JAM
Jam To Crap Score:  9/10 – *90.0%*
*CERTIFIED CRAP FREE*
511 E 12th St
New York, NY 10009
(212) 228-510
Review by: D. SCOTT SPINNEY
---