Posted: May 24, 2011 |
Author:
DJ MONSTER JAM
|
Filed under:
CHINESE FOOD
,
DUMPLINGS
,
WILLIAMSBURG
|
Leave a comment »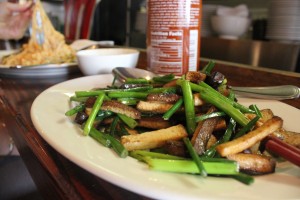 This place is the little bastard pain in the ass stepchild to M SHANGHAI that stays open til 6a (SIX IN DA MORNIN! -Snoop Dogg), but these MOTHERFUCKERS can't figure out what the FUCK they wanna do!  They're all over the place with their SHIT. At first you walk in here and then they're all like "BOOM, BITCH – here's some PERFECTLY GOLDEN FRIED SLAMMIN ASS DUMPLINGS to shove in your face so you can STICK THAT UP YOUR ASS AND SMOKE IT!!"  But then other times they're all like "MAYBE you'd like to try a bowl of CHICKEN CURRY SHIT FESTIVAL?!?!   HMMMM?????"   Listen to me, buddy – DON'T GO TO THE SHIT FESTIVAL!  Just the DUMPLINGS, ma'am – just the DUMPLINGS.  The sliced bean curd and the mixed vegetable soup is some SIMPLE SHIT, but it's FUCKIN GOOD.  If it's not BROKE, then DON'T FUCK WITH IT.
Sliced Bean Curd with Chive Flowers – MONSTER JAM
Curry Chicken Noodle Soup – Crap!
Pork & Chive Dumplings – MONSTER JAM
Mixed Vegetable Noodle Soup – Jam
Cold Noodle with Sesame Sauce – Crap!
Jam To Crap Score: 5/10 – *50.0%*
549 Metropolitan Avenue
Brooklyn, NY 11211
(718) 384-8008
Review by: DJ MONSTER JAM
---