Posted: May 17, 2011 |
Author:
DJ MONSTER JAM
|
Filed under:
PIZZA
,
THE MONSTER JAM REPORT
,
WILLIAMSBURG
|
1 Comment »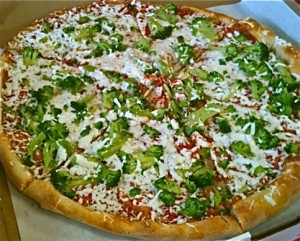 The dudes working at this place are SO FUCKIN NICE you'd never suspect how hard they are REEMING OUT THE ASS of every other pizza joint in the neighborhood. Other contenders should just go FUCK THEMSELVES AND DIE – IT's DUNZO! There's a location on Bedford, but the one in Greenpoint is way less crowded and has got the north side LOCKED THE FUCK DOWN.
Some of the slices here sound like BULLSHIT at first, but that's what's so genius about this place. The WHACKER they sound, the FUCKING DOPER they are! *OH SNAP!* The Black Bean Avocado slice looks like a sad pre-schooler's fingerpainting but it KICKS ASS EVERY TIME.
And they'll make you a slice of ANYTHING YOU FUCKIN WANT, BUDDY!  So you want to be a REAL ASSHOLE and order the world's most complicated specialty slice with about 20 extra ingredients on it??!?!?!   No FUCKING PROBLEM, BUDDY – SIT THE FUCK DOWN so they can make it for you. The one really SHITTY thing about this place is that it's located in BUTTFUCK, IDAHO. so you've got a LONG ASS WALK to think about the serious shit you just stuffed in your mouth.
Cheese Slice: MONSTER JAM
Pepperoni Slice: MONSTER JAM
Vinnie's GREAT Grandma: Jam
Black Bean Avocado Slice: MONSTER JAM
Farmer's Daughter: Jam
Meat the Parents: MONSTER JAM
Pepperoni Roll: Jam
Jam to Crap Score: 11/14 -* 78.5%*
*CERTIFIED CRAP FREE*
253 Nassau Ave.
Brooklyn, NY 11222
718-389-2600
Review by: DJ ABYSMAL SANDWICH
---