Posted: June 10, 2011 |
Author:
DJ ABYSMAL SANDWICH
|
Filed under:
PHO
,
THE MONSTER JAM REPORT
|
Leave a comment »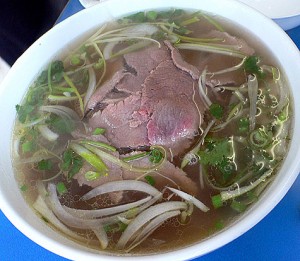 FACE IT MOTHERFUCKER, MOST DECENT PHO IN NYC IS PRETTY MUCH ALL IN CHINATOWN.  This place might as well tear the first 50 pages off their STUPID ASS menu because I don't GIVE A FLYING FUCK: THE PHO'S IN THE BACK ( SHIIIIIIEEEEEETTTTTT!!!!!!)
If you need to eat something else while you're waiting for the same pho GOD ALL FUCKING MIGHTY would eat if that guy EVEN HAS A MOUTH OR IS REAL (who gives a shit??), there are some SICK ASS options to tide you over. (Seriously why the FUCK am I not EATING THIS PHO RIGHT NOW????) The sugar cane shrimp looks like roadkill and is DOPE (like roadkill) and the salt and pepper squid is A) my favorite food and b) a FUCKING 187 – SCANDALOUS. Only thing to avoid are the greasy ass shrimp rolls – don't sully your face with these OILY TURDS FROM UNDER THE SEA!!!!
Pho: MONSTER JAM
Salt and Pepper Squid: MONSTER JAM
Fried Shrimp Rolls: Crap!
Sugar Cane Shrimp: Jam
Black Espresso with Condensed Milk: MONSTER JAM
Jam to Crap Score: 7/10 – 70%
73 Mulberry Street
New York, NY 10013
(212) 233-8988
Review by: DJ ABYSMAL SANDWICH
---
Posted: May 10, 2011 |
Author:
DJ MONSTER JAM
|
Filed under:
PHO
,
THE MONSTER JAM REPORT
,
WILLIAMSBURG
|
Leave a comment »
You wanna know what really FUCKIN RULZ HARD?  I don't care if you wanna know.  I'm gonna tell you anyways.  Like I was saying, FINALLY having a fuckin DECENT pho spot in the neighborhood really FUCKIN RULZ HARD, THAT'S WHAT.  I don't have to take the STUPID ASS SUBWAY to Chinatown every time I want a bowl of decent PHO – FUCK YES!  SIGN ME UP, MOTHERFUCKER!
But let me get some shit straight here before we go any further with all of this.  This place can be a bit up and down and all over the place with how they bring THEIR RUCKUS.  Sometimes I'll go in there and be like "OH FUCK FUCK FUCK YES!" and then other times I'll be all "WHAT THE FUCK IS THIS SHIT?!"  If you're gonna get pho make sure you eat it there because it FUCKIN SUCKS when you get it delivered.  All the shit that goes in it needs to stew around to make it AWESOME.  The lemongrass bahn mi sandwiches are pretty FUCKIN DOPE-ASS MONSTER JAMS all the time here.  The spring rolls are whatever and the bubble tea is solid.  This place has another location on Bedford but I recommend going to this one.  The one on Bedford gives NASTY FUCKIN STALE BREAD sometimes.
Pho Classic – MONSTER JAM
Chicken Pho – Jam
Spring Rolls – Jam
Bubble Tea – MONSTER JAM
Lemongrass Bahn Mi Sandwich – MONSTER JAM
Jam To Crap Score: 8/10 – *80.0%
*CERTIFIED CRAP FREE*
580 Grand St
Brooklyn, NY 11206

(718) 599-5015
---