Posted: June 17, 2011 |
Author:
DJ MONSTER JAM
|
Filed under:
BRUNCH
,
EAST VILLAGE
,
FANCY ORGANIC SHIT
,
THE MONSTER JAM REPORT
|
Leave a comment »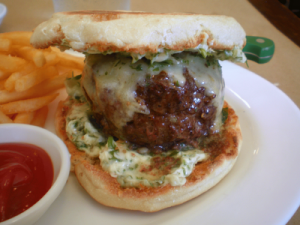 I usually don't give A RAT'S SQUIRRLEY FUCKING ASS about some DUMBASS brunch! And, why, why you ask?  WELL SHUT THE FUCK UP FOR A SECOND AND I'LL TELL YOU —- DAMN!  (8=====D~~~~)!!!!  It's RED AND MOTHERFUCKING YELLOW on repeat!!  Cus those are the only COLORS on a brunch plate!!  It's some FUCKING BORING over priced eggs drenched in red sauce (WHO GIVES A SHIIIIIT????) *PUKE* BLEHHHHHHH!!!!! But, guess what?! There's a brunch out there that proved MY SAD STUPID LITTLE ASS WRONG and it's the MAD DECE brunch at Prune.
Seriously,  I would suck some REBUPLICAN DONKEY DICK for this brunch it rules THAT FUCKING HARD.  First of all, don't even get me started on the Bloody Mary's. Usually, I can take or leave these BORING ASS SHITS, but JESUS ON A FUCKING POGO STICK they're FUCKIN WAILIN ON DAT AZZZZ!!!!! The Matchbox is my fave, with a SICK ARRANGEMENT of pickled vegetables that makes me feel like 007 ON A COKE BINGE, and it comes with a shot of BOB MARLEY'S GLASS BONG OF CHOICE RED STRIPE.  If that wasn't enough, the food is OFF THE MOTHERFUCKING CHARTS. The Spaghetti A La Carbonara rips a hole in Bitali's ass, with just the right amount of cream sauce and bacon.  The Eggs "En Cocotte", or as I like to call it THE BEST FRIGGIN' 'WHO CAME UP WITH THIS FUCKING MEAL?' OF ALL TIME should be put in a baby's bottle 'cus I WILL SLURP THAT SHIT UP (Daaaaaaamn!).  If you're feeling like you want the meal equal to NUT HUGGER JEANS, HOUSE MUSIC, AND STUPID QUESTIONS get the Youth Hostel Breakfast-it doesn't suck. Another jam is the stewed chikpeas, it gives some sweaty Moroccan eggs a run for its money. Word on the street is, a certain Brooklyn based actress BLEW UP THE DAMN BATHROOM THIS PLACE IS SO SICK. Not naming names, but it rhymes with SAGGY STICK 'N BALLZ.
Spaghetti A La Carbonara – MONSTER JAM
Youth Hostel Breakfast – Jam
Egg "En Cocotte" – MONSTER JAM
Spicy Stewed Chickpeas – Jam
Fresh Ricotta – Jam
Box Car Blood Mary – MONSTER JAM
Jam To Crap Score: 9/12 – *75.0%*
*CERTIFIED CRAP FREE*
54 E 1st St
New York, NY 10003
(212) 677-6221
Review by: D. SCOTT SPINNEY
---
Posted: May 24, 2011 |
Author:
DJ MONSTER JAM
|
Filed under:
EAST VILLAGE
,
FANCY ORGANIC SHIT
,
THE MONSTER JAM REPORT
|
Leave a comment »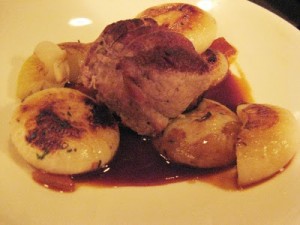 BIG FUCKIN DEAL, I like some farm-to-table organic goodness in my face, SO FUCKING SUE ME WHY DON'T YA?!  NORTHERN SPY sounds like it might be some whack ass Russian themed tapas bar where they serve drinks called the Kremlin Cream Float, but it's TOTALLY NOT!! It's a MAD DECE spot in the east village where you feel like you're eating at Mama's table if Mama was a NPR correspondent and a TREE HUMPING DENDROPHILIAC (for all you educated shitheads out there).
The Kale Salad is a STEALTH BOMB OF A MOTHERFUCKER with a SICK ASS cheese-to-green ratio to make you not feel like a JACKASS for loving the fuck out of a salad.  Don't even get me started on their Risotto (SHIIIIIIIIIT!!)  It's the organic pasta equal to a R. Kelly CRUNCH MUNCH REMIX FREAKKY FREAK UNDERAGE SEX JAM.  I'm not so sure what's so local about the squid & mussel ragout, except when I'm LAPPING THAT SHIT IN MY MOUTH like a dog on a hot day (DAMN – BET YOU DIDN'T SEE THAT ONE COMIN!!) They take fancy meat n' taters to the next level too, so you know the Roasted Chicken and Pork dish WILL RULE YOUR FACE WITH AN IRON SKILLET!  I haven't had a SHITTER here yet.
Kale Salad – MONSTER JAM
Freekeh Risotto – MONSTER JAM
Squid & Mussel Ragout – Jam
Hudson Valley Pork – MONSTER JAM
Roasted Chicken For Two – MONSTER JAM
Jam To Crap Score:  9/10 – *90.0%*
*CERTIFIED CRAP FREE*
511 E 12th St
New York, NY 10009
(212) 228-510
Review by: D. SCOTT SPINNEY
---