Posted: June 17, 2011 |
Author:
DJ ABYSMAL SANDWICH
|
Filed under:
SUSHI
,
THE MONSTER JAM REPORT
,
WILLIAMSBURG
|
Leave a comment »
Momo Sushi Shack sounds like some strip-mall SHIT HOLE where your FATASS midwestern relatives shovel pounds of MAGGOT COVERED WINN DIXIE FISH into their mouths and FART LEE GREENWOOD SONGS to each other like a couple a half-retarded blue whales passing in the night, BUT IT'S NOT LIKE THAT SO STOP TALKIN' LIKE YOU KNOW – YOU DON'T KNOW SHIT!
This is some FANCY MOTHERFUCKING SUSHI, it's DAINTY AS SHIT, with little piles of raw (FRESH, NON-MAGGOT) fish, mayonnaise and wasabi arranged just so on top of some perfectly cooked rice. You're going to feel like BUSHWICK'S BIGGEST PUSSY ASS trying to delicately wedge each of these FAT FUCKING WADS OF ARTISTRY in your face hole without looking like a DRUNK redneck in front of a plate of fried pork rinds.  If you're feeling all self-conscious around all this BEAUTIFUL FUCKING FOOD, order the Pork Betty, which is ugly as shit, and then BEAT ITS ASS WITH THE UGLY STICK some more by dropping a 6-minute egg on top.
Pork Betty – MONSTER JAM
Spicy Mc Bomb – Jam
Mc Low Bomb – Jam
Pink Bomb – MONSTER JAM
Spicy Una Bomb – MONSTER JAM
Jam to Crap Score: 8/10, 80%
*CERTIFIED CRAP FREE*
43 Bogart Street
Brooklyn, NY 11206
(718) 418-6666
---
Posted: June 10, 2011 |
Author:
DJ ABYSMAL SANDWICH
|
Filed under:
PHO
,
THE MONSTER JAM REPORT
|
Leave a comment »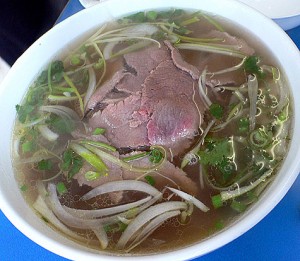 FACE IT MOTHERFUCKER, MOST DECENT PHO IN NYC IS PRETTY MUCH ALL IN CHINATOWN.  This place might as well tear the first 50 pages off their STUPID ASS menu because I don't GIVE A FLYING FUCK: THE PHO'S IN THE BACK ( SHIIIIIIEEEEEETTTTTT!!!!!!)
If you need to eat something else while you're waiting for the same pho GOD ALL FUCKING MIGHTY would eat if that guy EVEN HAS A MOUTH OR IS REAL (who gives a shit??), there are some SICK ASS options to tide you over. (Seriously why the FUCK am I not EATING THIS PHO RIGHT NOW????) The sugar cane shrimp looks like roadkill and is DOPE (like roadkill) and the salt and pepper squid is A) my favorite food and b) a FUCKING 187 – SCANDALOUS. Only thing to avoid are the greasy ass shrimp rolls – don't sully your face with these OILY TURDS FROM UNDER THE SEA!!!!
Pho: MONSTER JAM
Salt and Pepper Squid: MONSTER JAM
Fried Shrimp Rolls: Crap!
Sugar Cane Shrimp: Jam
Black Espresso with Condensed Milk: MONSTER JAM
Jam to Crap Score: 7/10 – 70%
73 Mulberry Street
New York, NY 10013
(212) 233-8988
Review by: DJ ABYSMAL SANDWICH
---
Posted: May 23, 2011 |
Author:
DJ ABYSMAL SANDWICH
|
Filed under:
DINERS
,
GREENPOINT
,
MEXICAN
,
THE MONSTER JAM REPORT
|
Tags:
Mexican
|
Leave a comment »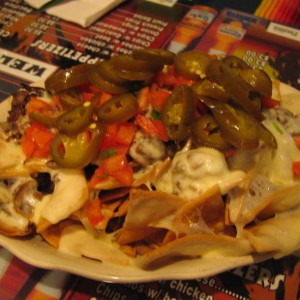 I fucking HATE IT when you show up at some Mexican place and they throw a tiny-ass bowl of STALE, CRUMBLY tortilla chips in your face, just to be like "HEY SHITHEAD, get ready to be CRAPPED ON by some of the WORST FOOD YOU'VE EVER EATEN!!! And I'll throw in a RAGING case of the HERSHEY SQUIRTS, gratis."
THAT BULLSHIT WILL NOT STAND AT ACAPULCO. The chips hit the table straight out the fryer, hot as hell, lightly browned and made from ACTUAL FUCKING TORTILLAS (WELL FUCK ME TEN WAYS TO SUNDAY!!!). Ten seconds into your meal and your face is TORE UP with the goods, and they don't mind STEAMROLLING YOUR ASS with a bowl of guac either.
Should I even bother telling you how HARD the burritos are going to FUCK YOU UP??? Fine: HARD AS ROCKS, MOTHERFUCKER. I just want to tilt my head back and wriggle that shit down my throat like SOME JACKED UP SWAN. If it's breakfast time you can say fuck it and eat a burrito (or a sandwich if you're some kind of asshole) or drizzle some syrup over a FAT STACK of CRUNCHY FRENCH TOAST – there's cereal in the batter and it's GOOD AS HELL WHUUUUUUUUUT????
Chips: MONSTER JAM
Guacamole: MONSTER JAM
Carne Asada Burrito: Jam
Crunchy French Toast: MONSTER JAM
Chorizo Burrito: MONSTER JAM
Rice and Beans: Jam
Jam to Crap Score: 10/12  83.33%
*CERTIFIED CRAP FREE*
1116 Manhattan Ave
Brooklyn, NY 11222
(718) 349-8429
Review by: DJ ABYSMAL SANDWICH
---